Virginia Chamber of Commerce issued the following announcement on March 5.
Herndon, Va. (March 4, 2020) — Northwest Financial Advisors (NWFA) today announced that LPL Financial, a partner in providing comprehensive wealth management services and the nation's largest broker-dealer,1 honored the firm as a 2019 Top Investment Program.2
LPL recognized NWFA and its financial professionals for the use of innovation, leadership in driving change and quality of execution. Karen Benedict, Sr. VP and program manager of NWFA, accepted the award on behalf of the firm at LPL Financial's 2020 Program Leadership Conference, an invitation-only event that provides bank- and credit union-based investment program leaders with opportunities to enhance leadership acumen, share best practices and grow their network.
Benedict said, "With over 5,000 clients, there's a tremendous amount of training, adaptation to new procedures and tools, recordkeeping and regulatory compliance that our advisors must commit to in order to deliver the level of service our clients have come to expect. I'm proud of each of them for their hard work and contributions to our firm's success."
"Every day, I see Karen and her team's commitment to the financial lives of our clients, whether that is a young entrepreneur, federal government employee or mature couple nearing retirement," said Kevin Fisher, president and CEO of NWFA. "It is truly gratifying to receive LPL's recognition as evidence of the team's exceptional performance on behalf of our clients."
In addition to serving the membership of Northwest Federal Credit Union, NWFA's 11 highly qualified advisors assist individuals and business owners across the nation with a variety of wealth management needs, including investment portfolio management; insurance; and retirement income, college savings, financial and estate planning.
About Northwest Financial Advisors
Serving individuals and businesses across the nation for more than two decades, Northwest Financial Advisors (NWFA) is owned by Northwest Capital Management, a wholly owned subsidiary of Northwest Federal Credit Union, and offers a comprehensive range of personalized, objective wealth management advice and solutions to help individuals, families and business owners create, grow, protect and preserve their assets. LPL Financial, the nation's leading independent broker-dealer and NWFA's securities custodian, ranked NWFA the No. 1 investment program among its credit union programs and the No. 7 investment program among its bank and credit union programs combined in 2019 (based on total investment revenue).3 For more information, visit nwfllc.com.
About LPL Financial
LPL Financial (LPL.com) is a leader in the retail financial advice market and the nation's largest independent broker-dealer. We serve independent financial professionals and financial institutions, providing them with the technology, research, clearing and compliance services and practice management programs they need to create and grow thriving practices. LPL enables them to provide objective guidance to millions of American families seeking wealth management, retirement planning, financial planning and asset management solutions.
1Based on total revenues, Financial Planning magazine, June 1996 to 2019.
2This award is based on average productivity by advisors.
3Rankings based on total production among all LPL Financial Institution Services (FIS) advisors through September 30, 2019.
Securities are offered through LPL Financial (LPL), a registered broker-dealer (member FINRA/SIPC). Insurance products are offered through LPL or its licensed affiliates. Investment advice offered through Northwest Financial Advisors, a registered investment advisor and separate entity from LPL Financial. Northwest Federal Credit Union (NWFCU) is not registered as a broker-dealer or investment advisor. Registered representatives of LPL offer products and services using Northwest Financial Advisors, and may also be employees of NWFCU. These products and services are being offered through LPL or its affiliates, which are separate entities from, and not affiliates of, NWFCU or Northwest Financial Advisors. Securities and insurance offered through LPL or its affiliates are: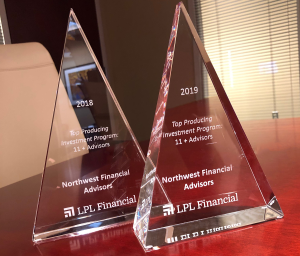 Original source can be found here.